Military
NC State is home to nearly 3,000 military-connected students and has earned national recognition as a Top-Ten Military Friendly School. We are honored to serve all military-affiliated students and are committed to helping you successfully apply and enroll at NC State.

NC State proudly offers numerous benefits and resources to our military service members, veterans, and dependents, to include processing of Residency Reclassification, Yellow Ribbon funding, and veteran support services. For more information about these programs, email Veterans Education Benefits at veterans-ed@ncsu.edu

Top 10 Military Friendly School
Best for Vets
Colleges
Military Friendly
Spouse School
Applying to NC State
Determine Your Student Type
Military dependents that are still in high school must apply as first-year applicants.
If you've already graduated from high school and begun your college education at another institution, you must apply as a transfer applicant.

We recommend you have a minimum of 30 transferable college semester credit hours completed (or 45 quarter hours) before you apply to NC State. View tips for preparing to apply here.
If you have no prior college coursework, we encourage you to consider enrollment at a community college or other institution to obtain college credits and become a competitive transfer applicant.
Learn more about transfer credit for military applicants here.
Apply On Time
Pay the Fee
A non-refundable application fee of $85 is required. If you think you may qualify for a fee waiver, view fee waiver eligibility requirements and learn how to submit documentation here.
Active-Duty Military Personnel
Applicants have the opportunity to indicate on the application if they are active-duty military personnel in order to have the application fee waived.
Learn who qualifies as active-duty military here.
Contact the Veterans Education Office for more information regarding this process at 919-515-3048 or email veterans-ed@ncsu.edu.
Additional Resources
Military and Veteran Services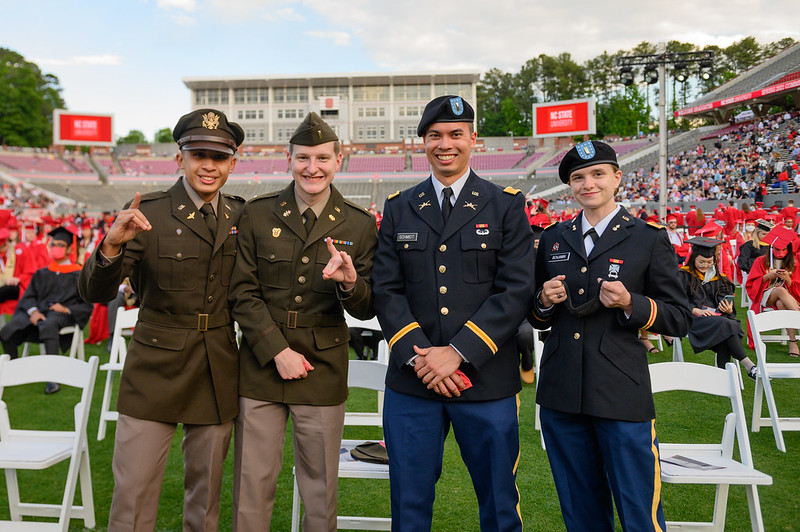 Transfer Credit for Military Students
NC State may award credit for military experience or coursework. Credit type and amount will vary by student, and most military credit is vocational and will only be awarded elective credit.
If your credit is reported on either a Joint Services Transcript or a Community College of the Air Force transcript, you will need to submit an official transcript to NC State for review.
Use the below resources to determine how you may be awarded for previous credits at NC State.
Military and Veterans Services has made a significant impact on my time here at NC State because of the overwhelming support and knowledge from the amazing staff.

Heather Akers

Class of 2020